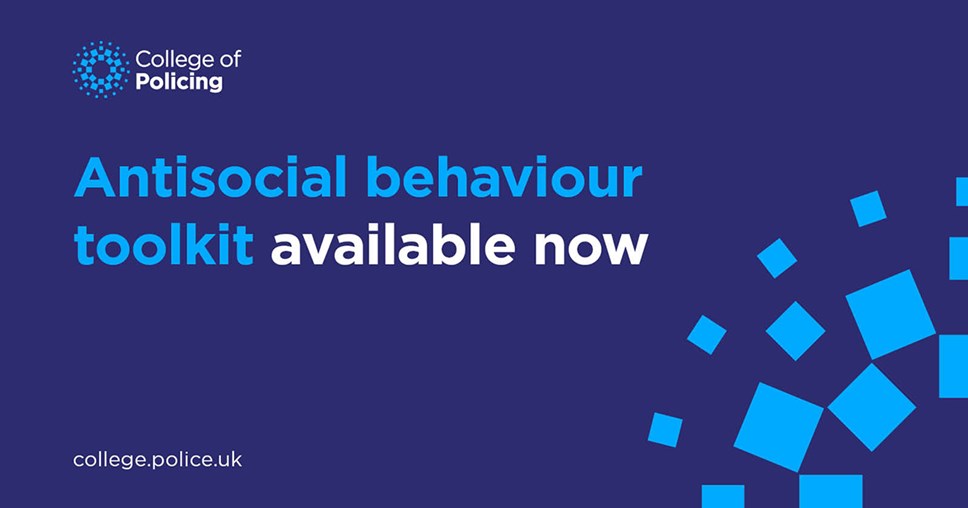 New toolkit supports efforts to tackle anti-social behaviour
A new toolkit from the College of Policing will support police officers and staff to tackle anti-social behaviour.
The online tool provides evidence-based techniques to confront and reduce incidents like rowdy or inconsiderate behaviour, causing a nuisance with a vehicle and leaving drug paraphernalia in the street.
It has been launched as part of the government's Anti-Social Behaviour Action Plan.
Superintendent Andy Sidebotham, the College of Policing lead for local policing, said:

"Anti-social behaviour can cause considerable distress and upset and this new College of Policing toolkit will support officers and staff to tackle it.

"Issues like drug taking and the remnants of it being left behind on the street are not acceptable and we know it can have a serious impact on our communities.

"There is already lots of great work being done by forces across the country to tackle ASB and the College of Policing's new toolkit will share that best practice so others can consider what will work in their communities.

"This is just the first phase of the toolkit and the College will build upon it in the coming months, so we have a source of legislation and powers, evidence base and case studies available to officers and staff whenever they need it."
The toolkit features case studies of what is working well including the use of anti-social behaviour community triggers by Dyfed Powys Police and Hertfordshire Constabulary's use of technology to grow and manage schemes such as Neighbourhood Watch.
Under the government's ASB action plan, 16 areas in England and Wales will be funded to support new 'hotspot' police patrols in areas with the highest rates of anti-social behaviour. The College toolkit features a 'how to' guide on hotspot patrols, what is working elsewhere and how to roll it out locally.
Evidence briefings on restorative justice, which is the process of repairing harm caused by criminal behaviour, and effective techniques for tackling neighbourhood crime are also included.
The toolkit is available to officers and staff any time online college.police.uk/anti-social-behaviour.
Contact Information
College Press Office
College of Policing
020 3837 0435