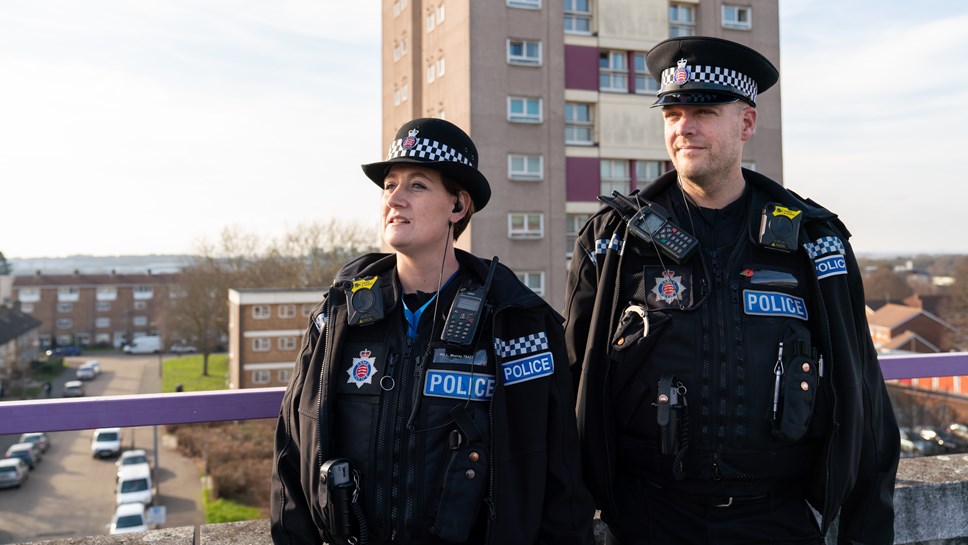 New neighbourhood policing guidelines published for public consultation
A public consultation on evidence-based guidelines for chief officers on how they should deliver, support and develop neighbourhood policing has opened.
Her Majesty's Inspectorate of Constabulary and Fire & Rescue Services (HMICFRS) 2016 police effectiveness report that found neighbourhood policing was being eroded.
The report made a recommendation for the development of guidance setting out the essential elements which all forces should provide.
The resulting guidelines published have defined the features of neighbourhood policing as:
• being accessible to, responsible for and accountable to communities;
• engaging with communities to build trust and develop understanding of needs;
• collaborative problem solving with communities;
They recognise that officers, staff and volunteers working in neighbourhood policing need to be allowed to work in a proactive and preventative way.
They set out essential elements for how it should be delivered through community engagement, problem solving and targeted activity.
And for how it should be supported; by having the right culture within policing; by providing sufficient capability to analyse problems; and by developing the people carrying it out.
Superintendent James Lunn, from the College of Policing, explains further:
"Neighbourhood policing has changed and diversified over the years, and forces will always have the independence to deploy their resources according to their own local needs.
"However, from the start of the work there was a sense that some focus had been lost on what is effective and what works.
"The new guidelines identify what chief officers should do, explain in detail those essential elements needed and describe the outcomes and benefits that can be achieved."
The guidelines were developed using a new process in which the College of Policing worked closely with frontline officers and senior leaders involved in neighbourhood policing, as well as subject matter experts from outside of policing.
The College also worked with the National Police Chiefs' Council (NPCC) lead for Neighbourhood Policing, Deputy Chief Constable Gavin Stephens, as well as the Association of Police and Crime Commissioners (APCC) in developing the guidelines.
DCC Stephens' said:
"Neighbourhood Policing is a foundation of British policing and essential in building trusting relationships with communities that allow us to police by consent.
"Over time, the nature of crime and disorder that undermines our communities' changes, and it is essential that we keep our practice up to date.
"Neighbourhood teams, including police community support officers, staff and volunteers, can now sometimes have a broad range of responsibilities.
"The Modernising Neighbourhood Policing Guidelines reflect these changes, but also recognise that at the heart of our policing practice are some essential elements, which are well grounded in evidence of what works.
"As there have been significant reductions over recent years in the numbers of police officers and PCSOs it is important that we spend our time wisely on activities that are known to be effective."
Keith Hunter, APCC lead for local policing and partnerships, said:
"I very much welcome these evidence based guidelines for chief officers which set out a clear set of expectations for how we should be delivering neighbourhood policing. They are clear and comprehensive and supported with further guidance for front line officers. The guidelines provide a much needed reference point that chief officers will be able to use to ensure that they are delivering neighbourhood policing in the right way and will help provide more consistency across forces.
"With policing facing many challenges and an ever growing demand, neighbourhood policing must remain as the core and bedrock of policing and I welcome the role that HMICFRS will be playing in ensuring that these Guidelines are taken account of by forces."
More than 200 contributions of experience and best practice were provided by forces and their partners.
And in excess of 1600 studies of neighbourhood policing were sifted by researchers for relevance and quality.
This has resulted in each of the guidelines being openly rated on the strength of research and practice-based evidence available.
Superintendent Lunn added:
"Our new approach has had real benefits with its close engagement with the frontline and a strong focus on the evidence.
"The guidelines, and the supporting material that underpins them, are based on the evidence of what works and is effective.
"I would like to thank those forces who submitted examples of their current practice - it was great to receive more than 200 responses, some of these feature as case studies in supporting material, others will be followed up on over the coming months."
DCC Stephens, who chaired the group of officers, staff and experts who reviewed the evidence and practice, added:
"I'm very grateful to those involved in producing the guidelines and for their dedication in reviewing examples of current practice and research studies. They have done an excellent job in producing seven, easy to read, guidelines that will enable all involved to make sure our neighbourhood policing really does help keep our communities' safe and feeling safe."
The public consultation is open until 9 August 2018.
-Ends-
Contact Information
College Press Office
College of Policing
020 3837 0435