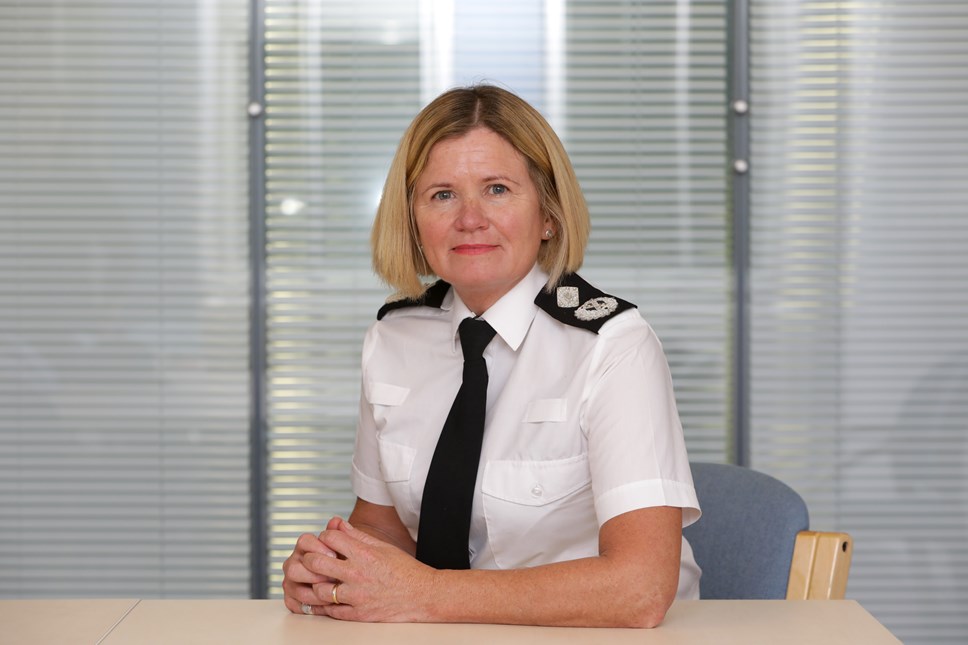 New deputy CEO starts at College of Policing
The College of Policing has appointed a new deputy CEO to join the standards setting body.
Deputy Chief Constable Maggie Blyth, an experienced chief officer, joins the standards body today.
She brings with her a passion for improving the leadership, standards and performance of policing and working to ensure the College is connected across the UK to police forces, law enforcement agencies and works closely with all stakeholders.
Maggie's 30-year career has focused on protecting the public and began in the Probation Service in the early 1990s before specialising in youth justice across London and Oxford and within national government. She went on to work for local government child protection services including work on high-profile child sexual exploitation cases and domestic homicide operations.
She joined Hampshire Constabulary as a Superintendent in 2016, becoming Portsmouth City's Commander. She was promoted to Assistant Chief Constable in May 2019 having completed the College's Strategic Command Course where she led on local policing and public protection across Wiltshire and Hampshire. In September 2021 she was appointed to a national role at the National Police Chiefs' Council (NPCC) to tackle violence against women and girls (VAWG) and has held this role for two years, initiating the first national policing response to VAWG across 43 Forces.
In her time at the NPCC Maggie has overseen a period of dedicated focus on VAWG by police forces. This work has included the inclusion of VAWG as a strategic policing requirement, putting it on the same priority footing as counter-terrorism, serious and organised crime and child sexual exploitation. Publication of the first VAWG strategic threat and risk assessment, the VAWG insights and performance report, and a national framework for delivery, have all supported forces to embed VAWG into their operational and strategic plans
Chief Constable Andy Marsh, College of Policing CEO, said: "I am delighted Maggie has joined the College as our new deputy CEO. She brings with her a wealth of experience in public protection and is an exceptionally talented officer who has dedicated her career to protecting people and supporting officers and staff to do their job.
"In her national role protecting women and girls against violence, Maggie built relationships with forces across England and Wales and understands the real-life pressures we know officers are under.
"Maggie brings a new dimension to our work supporting police to drive consistency across forces and give officers and staff the best training and standards to catch criminals and keep the public safe."
As the new deputy CEO, Maggie will continue to oversee national work to improve the response to violence against women and girls and ensure this is embedded into the College work.
Deputy Chief Constable Maggie Blyth, Deputy CEO at the College of Policing, said: "I am proud to be joining the College as Deputy Chief Executive. The College has made real progress in improving leadership and standards and ensuring consistency across our 43 forces over the last few years. I am excited to help contribute to this important work and ensure the College is at the forefront of national policing improvements.
"Over the last two years, I have been honoured to have the opportunity to lead the national policing response to violence against women and girls, and work alongside talented and enthused officers and staff across our Forces, and with stakeholders and individuals from the VAWG sector. We have made huge strides forward and I know joining the College of Policing will enable the work we have started to be fully embedded into policing."
Contact Information
College Press Office
College of Policing
020 3837 0435