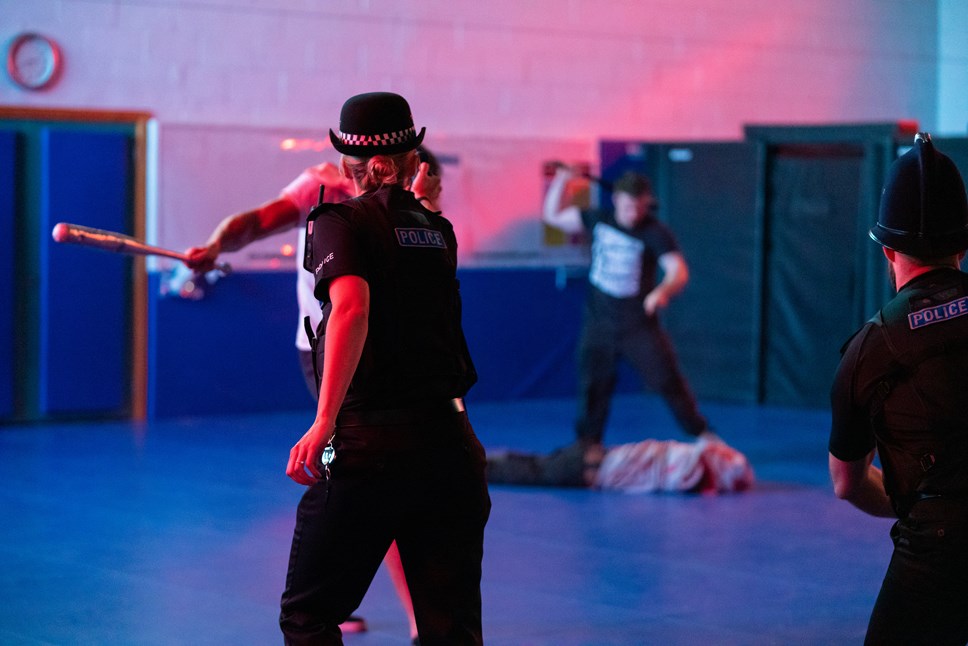 College of Policing rolls out new safety training for officers
New and improved public and personal safety training for police officers has started being rolled out to all forces after successful trials.
The College of Policing's new national curriculum for safety training was a commitment made in the 2020 officer and staff safety review.
It focuses on scenario based incidents that officers are likely to deal with on a daily basis such as stop and search, dealing with a vulnerable person and working in the custody area. There is a strong focus on de-escalation and communication tactics that can be used to try and avoid situations becoming violent. There is a continuing focus on how officers can protect themselves, colleagues and members of the public.
During a year long pilot in Avon and Somerset 89% of officers said the course was relevant to the demands of their job, with 83% saying it gave them personalised feedback.
The new training is now being implemented in forces with all parts of England and Wales having to deliver the programme by April 2024. From then officers must have at least 12 hours of public and personal safety training a year.
Superintendent Gaynor Wardle, the College of Policing lead for specialist operations, said:

"As we expect police officers to deal with the most serious situations and run towards danger, it is crucial that we equip them with the best possible training to do so.

"The new public and personal safety training will give officers the chance to apply their skills to scenarios based on real life incidents and receive personalised feedback and support where they can discuss the rationale of their decision making.

"The national curriculum will mean all officers in England and Wales will be trained to a consistent high standard and the College of Policing will support forces with its implementation over the next year."
The College of Policing has held several 'train the trainer' events over the past year so the course can be delivered locally, but to the same national high standard.
New Authorised Professional Practice for Public and Personal Safety Training will be published soon, which will provide even more support.
In the year ending March 2022 there were just over 41,000 assaults on police officers in England and Wales. Assaults without injury increased by 11% on the year before, whilst those causing injury rose by more than 2%.
Sergeant Dan Phillips worked on developing the training and said: "I've been an officer safety trainer for over 20 years and this new course is a great improvement. It will allow officers to see how the tactics they learn can be applied in real life scenarios providing them with the opportunity to respond, react and learn in a realistic situation.

"It's very learner focused and concentrates on what works for the person taking part, giving them the opportunity to test their decision making and personal capabilities. The instructor is now more like a coach talking through scenarios, making sure that the training has a link to something near reality.

"It includes greater input on practicing how to de-escalate situations, whilst still focusing on the tactics for officers dealing with violence and aggression. The feedback so far has been great.

"The training will continue to evolve and one of our next projects is looking at the PPST manual so we want to hear from officers what they want in the National Personal Safety Manual. Please speak to your trainer to find out how to get involved in our survey."
Any police officer can take part in the survey here.
Contact Information
College Press Office
College of Policing
020 3837 0435
Notes to editors
College of Policing guidance on conflict management was published at the time of the officer and staff safety review.
The officer and staff safety review found varying levels of time allocated to safety training refreshers across different forces. The College will now mandate that every officer receives at least 12 hours a year.
Chief Constables accepted the recommendation from the officer and staff safety review that "The College of Policing with the NPCC should revise the national curriculum and related guidance on personal safety training to improve officer and staff safety and satisfaction, and to ensure greater consistency. The curriculum should focus on the most effective techniques and recommend contact time and training methods."
The new training came into effect on April 1 2023 but forces have one year implementation period.
The College of Policing will support forces with implementation and ensure training is being delivered to the standard required.