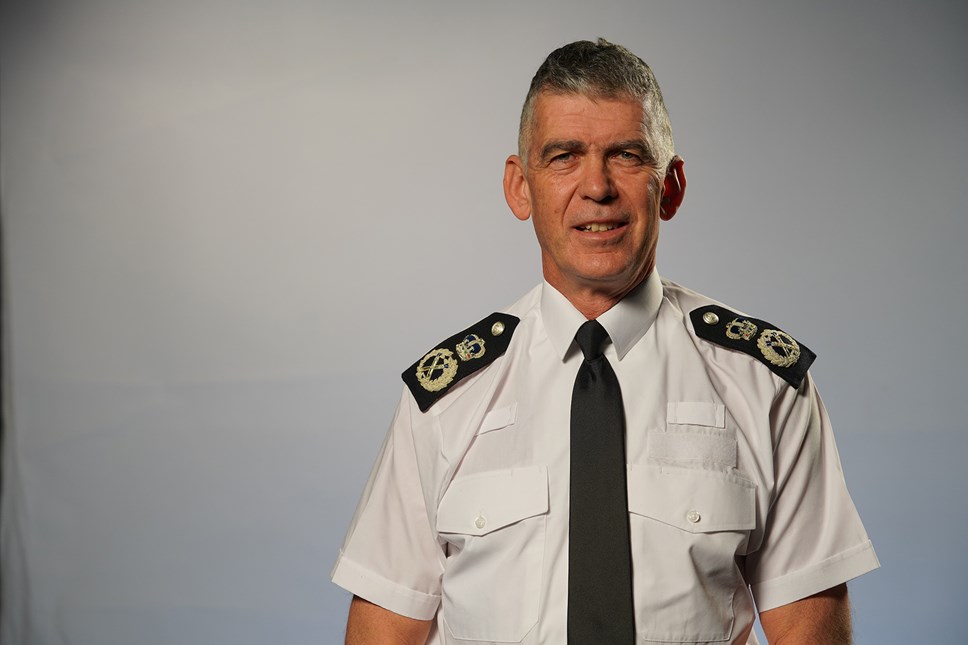 Chief Constable Andy Marsh to stress police must "get the basics right"
The Chief constable in charge of the College of Policing will say policing has "at times, lost sight of the basics".
Andy Marsh will give the Police Foundation's John Harris Memorial Lecture on Wednesday night to an audience from across law enforcement, as the professional body for policing announces its new National Centre for Police Leadership.
Chief Constable Andy Marsh will say: "We have, at times, lost sight of the basics."
"For me, getting the basics right means delivering what the public expect… the prevention and detection of crime by officers and staff exercising the highest professional standards."
Earlier this year the College of Policing published a fundamental review into how the organisation works which set a clear vision to, as Chief Constable Marsh will say tomorrow, "get the basics right and deliver for our communities," by boosting professionalism, driving consistency and improving leadership.
He will use the lecture to set out his plan for how the College of Policing will support officers and staff to deliver a police service which prevents crime and gets justice for more people.
He will refer to the Police Foundation's Strategic Review which found that detection rates have almost halved in the last seven years. In the year to March 2021 only 9.3 per cent of all recorded police crime resulted in a charge or summons, compared to 17 per cent in 2014. "The public just don't think that is good enough. Neither should we," he will say.
Police leadership
On leadership Chief Constable Marsh will set out the case for a renewed focus on investing in leaders at all levels of policing, driven forward by the College's new National Centre for Police Leadership. Mr Marsh will propose in the lecture:
"If we are truly to change behaviours and improve outcomes we also need to focus on how people are overseen, supported and encouraged in their work. That means improving leadership. It is, for me, the most important element of policing. No officer or member of staff can meet their potential, have their talent identified and managed, or be challenged when their performance falls short without excellent leadership.
"We need to support and develop this at all levels of policing. From peers who will welcome new recruits, to sergeants and other front-line supervisors, to Chief Constables setting the direction and modelling the values of the whole force. Leadership is the single most important success factor of a high-performing police force.
"That is why I am so ambitious for the work of the College in this area. The new National Centre for Police Leadership which is being established is going to drive world-class leadership at all levels.
"The Centre underpins everyone's commitment to, and investment in, the police service. It will help ensure we have the right people, with the right skills, knowledge, behaviours, and values to deliver the policing vision."
He will add that the National Centre for Police Leadership will deliver "leaders who care, who are prepared to listen, and are equipped with the evidence to do the right thing."
It will give officers "a focus on those crimes that harm the most vulnerable in our society with new tools and tactics. And also focusing on crimes that matter most to the public – getting the basics right."
Culture, performance and public confidence
The wide-ranging lecture will also touch on current policing performance, culture and public expectations, with the Chief Constable suggesting:
"When citizens find themselves having to do the job of the police – whether that is tracking down their own stolen tech using find my phone, only for the police to refuse to investigate, or when mothers patrol the streets because they are concerned about the safety of their children, their patience with us is going to be pretty thin. It is the job of all in policing, not least of all in the College, to equip our officers with the skills and knowledge, that I have talked about, that they need to prevent crime and catch criminals.
"The public, and politicians who represent them, have a right to expect the very highest levels of performance, with integrity, and are right to hold us to account for delivering it. Policing spends billions of pounds of public money every year; we cannot baulk at scrutiny and oversight, which is a fundamentally important part of any recipe for success."
Chief Constable Marsh will stress the need to match good community engagement with strong performance:
"Community engagement is hard work. Getting the confidence of communities requires a concerted effort – to paraphrase, it arrives on foot and leaves on a tweet."
"...there are many communities to engage with in an even-handed way. Real engagement is hard work and takes dedication, attention to detail and follow up every single day. To simplify it with a mathematical analogy, there is an equation. In my book, performance plus trust equals confidence.
"It is not enough simply to show that we care about diverse communities if we are not dealing with the most basic requirements they have of us, namely to prevent and detect crime. Engagement, in a policing model built on consent, is the route to effective performance and keeping people safe, and should not be a distraction from it. At the moment we are simply not effective enough; performance is not good enough."
"Policing is a serious business – we need to roll up our sleeves and focus on cutting crime and building confidence. When certain behaviours become distractions from this mission it is time to think again."
Chief Constable Andy Marsh has been a police officer for more than 30 years and joined the College of Policing in August 2021 after leading both Hampshire and Avon and Somerset Police.
Contact Information
College Press Office
College of Policing
020 3837 0435
Notes to editors
Chief Constable Andy Marsh is available for broadcast interviews on Wednesday morning - please email pressoffice@college.police.uk or call 07827 309 361 to request.
About the College of Policing
The College of Policing is a professional body for everyone working across policing. It is an operationally independent arm's-length body of the Home Office.
We set the standards police should meet, build an evidence base of what works to reduce crime and provide professional development for officers and staff.
Image credit: College of Policing