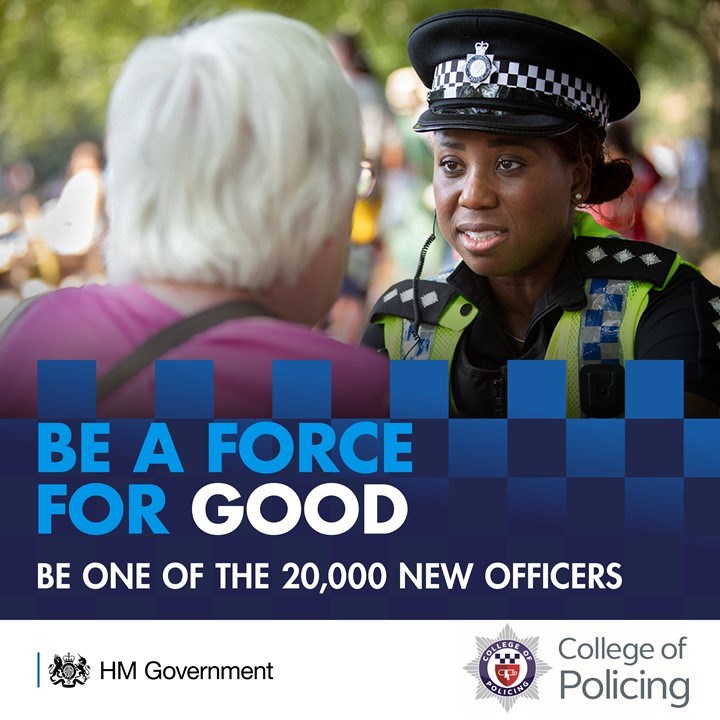 Advice for new police recruits
As the Government announces plans to recruit 20,000 extra officers, we ask three new police apprentices for advice six months into becoming an officer.
In September last year, Nottinghamshire Police's first cohort of recruits for the Police Constable Degree Apprenticeship (PCDA) started. We caught up with Rosalee, Charlotte and Jonathan about their experiences so far.
What kind of things have you been doing as part of the PCDA in the last 6 months?

Charlotte: The PCDA is a job where you never do the same shift twice. The first 4 months is about the training and university work where we learn the legislations, however when you go onto division with your tutor every job you go to is different and you deal with different people daily. The types of jobs you do are domestic, theft, burglary, assaults and many more.
Jonathan: As part of the PCDA in the last 6 months, I have been through the first phase of training school at Hucknall, attended Derby University for the university input and I am now currently on my tutorship phase on response.
Rosalee: For the past 6 months most of my time was spent in the classroom learning various modules relating to our police duties; I have completed OST, NICHE, AIRWAVES and COMPACT to name a few. I arrive at training school for 0845 am for a 0900 start. I have participated in group discussions, classroom activities and learning modules mostly related to Policing Powers and Legislations. There are days when we have guest speakers – mostly current or former serving officers who are experts in their field of work, who provide us with useful knowledge and past experience that I find very informative.
I attend university one day per week as part of the PCDA. Completing modules related to policing. I have had the pleasure of being in the company of some very knowledgeable lecturers, whose sole aim is to make sure that we all complete the PCDA with exceptional grades.
I have started my tutorship which I love. My tutor is a natural at what he does and is determined to help me see this through. I have gained experiences that I wouldn't have and I have conquered fears I never thought I would. My rota team has now become my new family and I am welcomed with open arms. The most important thing for me is at the end of the day I know that I have done a good job with the help of my team.

What advice would you give to anyone thinking of undertaking the Police Constable Degree Apprenticeship (PCDA)?

Charlotte: If you want to join the police force as a constable, this is a good way to join as you are getting front line police experience as well as getting a degree. However be prepared to work hard and get involved in discussions in sessions otherwise you will struggle.
Jonathan: I would advise anyone looking to undertake the PCDA to go for it as they might just surprise themselves as to what they can achieve. It is hard work and it is challenging studying whilst working, but the rewards and benefits are worth it as it is an excellent career. Nottinghamshire Police are investing in their apprentice officers and at the end of the three year probation they will come away with a BA in Professional Policing and experience in the role of a police constable, which may also help them with any future career progression.
Rosalee: My advice I would give is to go for it, there is a real opportunity for you to go higher within the force. If you have a passion for helping people, if you want to make a difference in your community then why not join the police force. The opportunity to work and study while doing what you love is all the motivation you need. Come with a positive attitude, but most importantly be yourself.

How did you find the PCDA recruitment process?

Charlotte: I found the process well laid out and easy to understand.
Jonathan: Due to being recruited internally I found the recruitment process to be straight forward and was fully supported by my managers, however I did have a few issues with the Multi-Force Shared Service (MFSS), which were resolved by my line manager at the time and the teams at Nottinghamshire and MFSS.
I found the seminars put on by Nottinghamshire Police to be useful in preparing me for the assessment centre and full of information as to what the PCDA is.
Rosalee: The recruitment process was very good. It was well explained during the workshops set up by Nottinghamshire Recruitment Team. We were given all the resources needed for a successful recruitment. Extra help was offered for those who needed it.



Contact Information
Jason Lavan
Media Relations Manager
College of Policing